Juba (HAN) October 12, 2015. Public Diplomacy and Regional News. Uganda's army will leave neighbouring South Sudan by next month, the head of the country's armed forces said Monday."The boys are coming home. We will be out by the first week of November," General Katumba Wamala told reporters in the capital Kampala.
Uganda's president Yoweri Museveni deployed troops to South Sudan in support of President Salva Kiir in his 21-month long war with rebels led by former deputy president Riek Machar.
The Ugandan soldier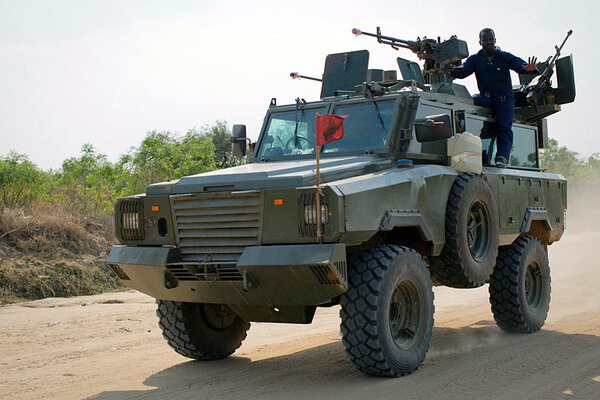 s have played key roles in defending the capital Juba and have used helicopter gunships to fend off rebel attacks elsewhere in the country.
Last year the United Nations accused the Uganda People's Defence Force (UPDF) of using outlawed cluster munitions in South Sudan, a charge denied by Uganda.
As part of a peace deal, mediated by regional bloc IGAD and signed in Addis Ababa in August by Kiir and Machar, the Ugandan soldiers were supposed to leave South Sudan at the weekend, but that deadline was missed.
The demilitarisation of government-held Juba to allow the return of Machar and his rebel entourage is a key provision of the peace agreement.  Mr James Mugume, a senior foreign ministry official, said the Ugandan withdrawal would begin at once.
"Uganda has with immediate effect from today started to pull out of South Sudan," he said. The Ugandan soldiers are due to be replaced by a neutral force, while South Sudanese soldiers are to be relocated to barracks outside the city. eastafrican
---
HAN & Geeska Afrika Online (1985-2015), the oldest free independent Free Press in the region, brings together top  journalists from across the Horn of Africa. Including Ethiopia, Somalia, Eritrea, Sudan, Djibouti, South Sudan, Uganda,  Kenya, Oromo, Amhara, Somali, Afar and Harari. Plus, we have daily translations from 150 major news organizations in the  Middle East and East African regions. Contact at news@geeskaafrika.com
---