Mogadishu (HAN) October 11, 2015 – Public Diplomacy and Regional News. Somalia Prime Minister Omar Abdirashid Ali Sharmarke has sent condolences to the President, Government and the people of Turkey following Saturday's terrorist attacks in the city of Ankara which claimed the lives of at least 95 people.
In a Press statement, Mr Sharmarke said that the Federal government strongly pledges its support and loyalty to the Government and the people of Turkey at this particular time of tragedy."On behalf of the Government of Federal Republic of Somalia I sincerely send my sympathy to the President, Government and Nation of Turkey in t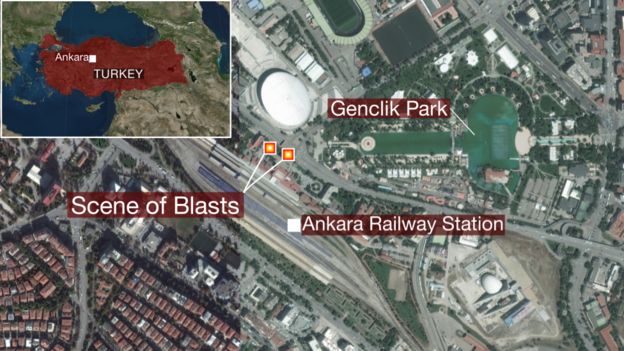 he loss of innocent lives that perished in the two explosions in Ankara. I pray for the speed recovery of those injured. And wish those who lost loved ones the strength to withstand this terrible loss.''
At least 95 people were killed and almost 190 injured on Saturday in the deadliest terrorist attack in the 92-year history of the Turkish republic.
The government said the blasts targeted national unity and declared three days of official mourning, but some victims blamed the intelligence services, while others blamed the victims. And behind it all are the shadows of the so-called Islamic State and the PKK.
Turkey is a key ally of the Somali government. Its vast humanitarian aid effort at the height of the 2011 famine has endeared the country to many Somali people, especially as Ankara continues to build hospitals and dispatch aid across Somalia. Horseed
---
HAN & Geeska Afrika Online (1985-2015), the oldest free independent Free Press in the region, brings together top  journalists from across the Horn of Africa. Including Ethiopia, Somalia, Eritrea, Sudan, Djibouti, South Sudan, Uganda,  Kenya, Oromo, Amhara, Somali, Afar and Harari. Plus, we have daily translations from 150 major news organizations in the  Middle East and East African regions. Contact at news@geeskaafrika.com
---