GONDER (HAN) July 31.2016. Public Diplomacy & Regional Security News. Defying a government order not to go ahead with a protest rally, Gonder not only held a massive protest rally but also rekindled the spirit of Ethiopian Unity by condemning government killings in Oromia.
Massive protest rally

Not 'unconfirmed'. Up to half a Million Marched in the rally

Marchers also denounced ongoing killings in Oromia

The central square of this historic city

unfair distribution of wealth in the country.
UPDATES 
Post
by R K Merton Walelign.
---

Images posted by protesters and other eye witnesses on social media show hundreds of thousands of people carrying Ethiopian flags and placards singing and chanting against the government's regime.
---
Salute of solidarity from the #AmharaProtests to the #OromoProtests

Truly unsarcastic use of #EthiopiaRising here. pic.twitter.com/4uEWY4QdZR — Zecharias Zelalem (@ZekuZelalem) July 31, 2016
What is happening in Gondar and Oromia clearly demonestrates the immediate need for national consensus. https://t.co/FjdWnMrbSq — ዘርይሁን (@Zerihun_et) July 31, 2016
---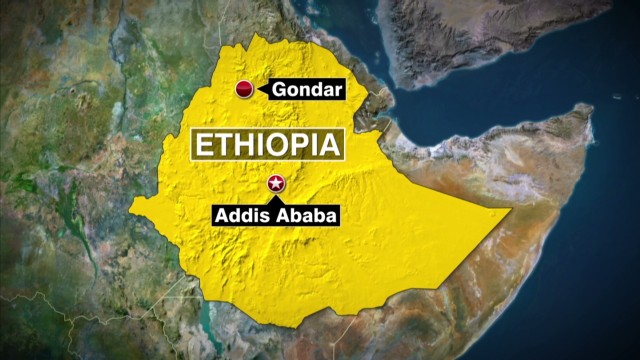 Gondar or Gonder is a city and separate woreda in Ethiopia. Located in the Semien Gondar Zone of the Amhara Region, Gondar is north of Tana Lake on the Lesser Angereb River and southwest of the Simien Mountains
---
On Sunday, patriotic Gonder held the genuine Ethiopian flag high in the air throughout the day.
#Gondar demonstrators have also showed solidarity to #OromoProtests; slogan reads: 'Stop Killing Oromo Brothers' pic.twitter.com/IKSkzyat5G — BefeQadu Z. Hailu (@befeqadu) July 31, 2016
The protesters also chanted that the imprisoned Welkait Tegede committee men should be released without any preconditions, or else face the consequences. Marchers also denounced ongoing killings in Oromia, and vowed their struggle wouldn't stop short of securing what it takes for the reign of democracy, freedom and justice in Ethiopia. [gallery ids="22041,22042,22043,22045,22046,22047,22048,22049,22050"]