HARGEISA (HAN) September 20. 2020. Public Diplomacy and Regional Stability Initiatives News. Monitoring Regional Issues. In an unprecedented move, the Ministry of Information and National Guidance ordered all government-owned media outlets to allow opposition voices an equal coverage.
In a circular addressed to the Radio Hargeisa, Somaliland National Television, Dawan newspaper, and all other government-owned media outlets, the Deputy Minister of Ministry of Information and National Guidance Hon. Abdinasir Omer Jama ordered that an independent and balanced coverage be given to all aspects of the news cycle in Somaliland.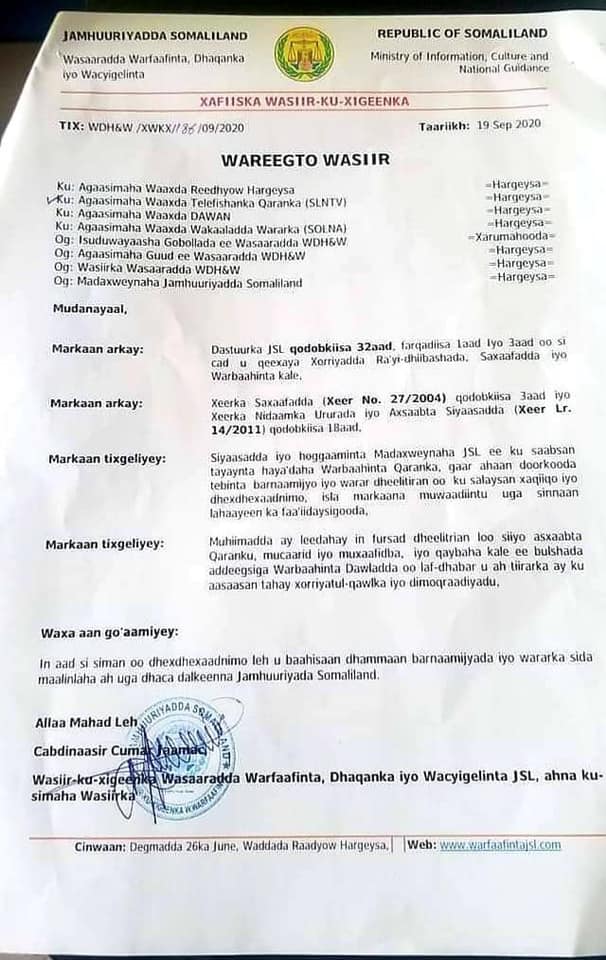 The circular notes the importance of giving equal and fair coverage to all political parties especially dissenting voices from the opposition and the public.
Government-owned media outlets in Somaliland lag far behind independent media and focus on programming designed to showcase government achievement and the activities of government officials.
It is unclear if the circular from the Ministry of Information and National Guidance marks an end to the government's ham-fisted policy towards freedom of speech and arbitrary detention of journalists.
Dawan a government-owned newspaper and one of the oldest and continuously operating papers in Somaliland seems to have put an immediate effect by running a segment featuring a Waddani opposition party criticizing Hargeisa Local Municipality for the poor road infrastructure in the capital.
This is the first time in Somaliland's history that government-owned media are explicitly instructed to be impartial and operate independently.