RIO DE JANEIRO (HAN) August 20.2016. Public Diplomacy & Regional Security News. By Drazen Jorgic. Ethiopia's Almaz Ayana was supposed to be enjoying a glorious Olympic debut after shattering the women's 10,000 metres world record last week but the occasion was somewhat marred by immediate questions about whether she was clean.
The same fate befell South Africa's Wayde van Niekerk, who smashed Michael Johnson's 17-year-old world record to win the 400m gold medal. Instantly, journalists inquired how was it possible to run so fast without doping.
Such is the atmosphere in modern-day athletics that any standout performance swiftly arouses suspicion and forces the athlete on the defensive.
Ayana, who on Friday added a 5,000m bronze to her 10,000m crown, said such reactions were not fair.
"There are many who suspect doping to have taken place whenever a race is won or a record is broken. I don't accept this," Ayana told Reuters in Rio.
After her memorable victory in the 10,000m in one of the greatest long-distance races ever, journalists asked Ayana how was it possible to cut 14 seconds off a record set by China's Wang Junxia 23 years ago that has come under scrutiny.
Wang was among a team coached by Ma Junren, who for years had been dogged by doping allegations.
Ma has consistently denied the drug claims and said his athletes reached such levels through hard work and natural remedies, including turtle's blood.
However, in 2000, Chinese authorities fired Ma from the Olympic team after six of his athletes failed drug tests.
'HARD WORK'
In Ayana's case, suspicion was further enflamed by Swedish race rival Sarah Lahti, who finished 12th and immediately questioned the Ethiopian's performance by saying: "I don't think she is 100 percent".
Lahti offered no reason for her suspicion other than Ayana's strong performance. Lahti bettered her own personal best over the distance by 26 seconds and the first 13 women across the line clocked lifetime bests and set five national records.
Ayana has rejected the insinuation and once again credited her training, not drugs, for her breathtaking speed.
"Through hard work, anyone can succeed," said Ayana, who is the reigning 5,000m world champion.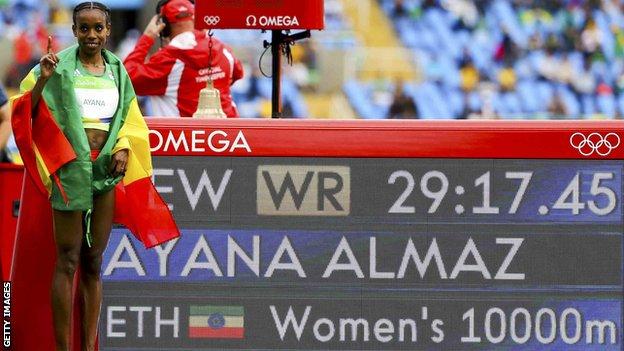 The 24-year-old said she "didn't even notice the record time" until after the race, in which she beat Kenya's most decorated female athlete Vivian Cheruiyot and fellow Ethiopian Tirunesh Dibaba, the defending Olympic champion who took bronze.
In the 5,000m final, Ayana was the hot favourite and many expected her to secure a memorable long-distance double by becoming the second woman ever to win both events at the same Games.
But after once again storming into a huge lead, the Ethiopian this time couldn't keep pushing and was overhauled by Cheruiyot and fellow Kenyan Hellen Onsando Obiri, who took silver ahead of Ayana.
"My aim was to win the race. But I felt tired. I knew I wasn't going to win by the time race had four laps remaining," Ayana said, adding that it was "possible" she may have got her tactics wrong.
Though she leaves Rio with fond memories, Ayana said her focus will now turn to becoming Ethiopia's new distance queen, a mantle long held by her childhood role model Dibaba.
"I do dream of that," Ayana said.
"That was my aim before and I'll work even harder now. There is plenty of time. I'm still young and inexperienced." (Additional reporting by Aaron Maasho in Addis Adaba; Editing by Nina Chestney)