Since October, Ethiopia has been withdrawing troops from Somalia. The redeployment highlights problems with the international community's funding of military operations in Africa.
The Ethiopian troops had been assisting the internationally funded African Union Mission in Somalia (AMISOM). The draw-down could imperil Somalia's chances of becoming a viable nation state.
Many assumed this redeployment was aimed at bolstering Ethiopia's security forces in order to tackle the country's ongoing six-month state of emergency. But the reasons are more complicated, revealing problems with internationally-funded peacekeeping and with AMISOM's efforts in battling al-Qaeda-linked militants in Somalia.
Since the Ethiopian National Defence Force (ENDF) withdrew its forces, the Islamic insurgency of Al Shabaab has already retaken a number of towns across south and central Somalia.
"AMISOM should be able to do its mission with its quota of 21,000 troops—but it's not managing it," said a foreign political adviser in the Ethiopian capital of Addis Ababa who wished to remain anonymous. "AMISOM can't do anything without those additional Ethiopian troops."
The withdrawn Ethiopian soldiers made up most of a force of 4,000 that operated outside of — but provided crucial support to — the multi-African AMISOM mission, which already includes an additional 4,000 Ethiopia troops.
"Ethiopian troops know the land, they're used to the temperatures, they are the only ones who have previous experience fighting both guerrilla and conventional warfare," said an Ethiopian Horn of Africa political analyst, who spoke on condition of anonymity.
Ethiopian troops crucial
The Ethiopian troops outside of AMISOM, however, didn't qualify for any of the international funding or UN-backed logistical support that AMISOM receives.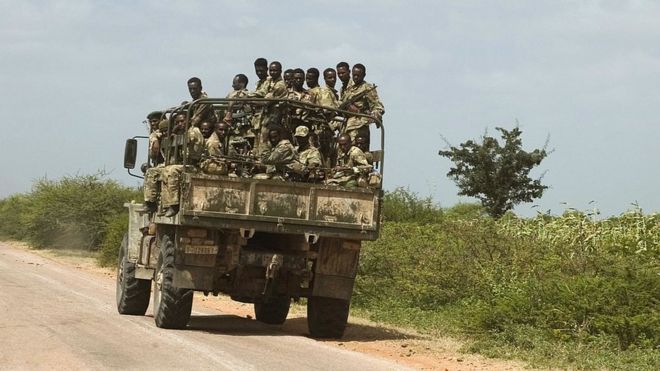 General Samora Yunis, chief of staff of the ENDF, had been saying for months that the army couldn't sustain the cost of the Ethiopian contingents that were not integrated with AMISOM troops.
But the international community wasn't willing to pay more than what it was already shelling out for AMISOM — each contributing country receives $1,028 per soldier per month — and for logistical support.
"It wasn't just the money," said the Ethiopian political analyst. "The Ethiopian government felt it didn't have the diplomatic support it should have and that its efforts hadn't been recognised."
At the same time, Ethiopia's state of emergency did have an influence, the analyst noted, although not in the way most assumed.
"The unrest was making those non-AMISOM troops more expensive for Ethiopia, as its foreign direct investment has been hit and its foreign exchange reserves are decreasing," he said.
The last 600 of Ethiopia's non-AMISOM troops still in Somalia will be pulled out after Somalia's ongoing parliamentary election, leaving AMISOM to soldier on amid increasing difficulties.
Taking the fight to Al Shabaab
The UN Security Council voted unanimously last July to renew AMISOM's mandate to help stabilise the country and facilitate the electoral process.
"In Somalia there's no peace to keep," said a security analyst with an international organization in Addis Ababa, who spoke on condition of anonymity. "So the UN is doing something out of its comfort zone, as it doesn't have a warfighting logistics mechanism."
Precise figures of AMISOM fatalities are unknown because contributing countries do not release numbers. But estimates range between 1,000 and 2,000 troops killed in operations.
"Ethiopian troops are the main ones that are mobile and taking the fight to Al Shabaab, while the rest of AMISOM usually stay in Mogadishu or a few major bases," said the Ethiopian political analyst.
'Militarily effective, politically toxic'
"The ENDF intervention in 2006 was what created Al Shabaab as we know it today," said peace and security expert Paul Williams, visiting professor at the Institute for Peace and Security Studies at Addis Ababa University.
"[Ethiopia invaded Somalia in 2006] and it moved them from a fringe element of the Union of Islamic Courts to the dominant force whose ranks were swelled by anti-Ethiopian vitriol."
During two years of fighting between Ethiopian troops and insurgents, more than one million people, mainly from Mogadishu, were displaced, according to the United Nations High Commission for Refugees.
Furthermore, an estimated 10,000 civilians were killed, with Ethiopian troops accused by local and international human rights organizations of committing atrocities against civilians and indiscriminate bombardment of built-up residential areas.
Some question the extent of such accusations, but a tangible legacy appears to remain.
"ENDF troops are militarily effective against Al Shabaab but potentially politically toxic with the local population, especially the further they move from the Ethiopian border," Williams said.
State building
Somalia and Afghanistan are of similar sizes, noted Paul Williams. And, yet, the amounts of money and numbers of international troops that went into Afghanistan is significantly larger compared to Somalia.
"The appetite in the West to spend more money in Somalia is limited — we are not personally invested like we were with Afghanistan," he said. "It's other countries' armies."
At the same time, he notes, Europe "has shouldered a huge amount of the burden with Somalia". AMISOM has garnered about €1.25 billion of the European Union's African Peace Facility initiative since it was set up in 2007.
Now, however, there appear to be increasing worries that all the blood and treasure sacrificed over the last decade may not leave Somalia with the self-sufficiency it needs to be a viable nation state.
"Even with the extra Ethiopian troops, AMISOM can't take and hold territory," the foreign security analyst said. "That's only going to happen with Somali troops and police assisting—and they're not ready yet."