IDAHO (HAN) November 1,2015. Public Diplomacy and Regional Security News. Wayne Carlson became a convert to Ethiopia's staple grain while doing public health work in Africa in the mid-1970s. Teff flour is the key ingredient for injera, Ethiopia's signature, spongy flatbread. It has a mild, nutty or earthy taste.
In the late 1970s, Carlson returned to the U.S., married and settled in southwest Idaho. Then he hatched the idea to introduce teff grass to North America in his home state.
"Geologically, it is very similar to Ethiopia," he explained. "Ethiopia is placed on the East African Rift Valley, which is very much like the Snake River Plain."
Neither Wayne nor his wife, Elisabeth, is a farmer, nor do they want to be. So they persuaded actual farmers in Idaho, and in the neighboring states of Oregon and Nevada, to grow teff on contract for them. They mill the grain into flour, but until last year there wasn't a single Ethiopian restaurant or bakery in all of Idaho to sell it to.
Undeterred, the Carlsons found customers.
"The way we started was Wayne went through the Washington, D.C., telephone book and looked for the names that were Ethiopian," Elisabeth said.
And that's how the business slowly grew for several decades, serving the far-flung Ethiopian and Eritrean immigrant community in the U.S.
The Teff Company has outgrown four different mills. The first was a little stone grinder in the Carlsons' basement. They currently occupy a remodeled brewery complex in Nampa, Idaho. The teff flour coming off the packing line could well land in an upscale natural food store or commercial bakery.
According to an industry trade group, sales of alternatives to modern wheat — amaranthe, quinoa and millet, along with teff — are growing at double-digit rates each year.
Teff production in the U.S. exploded over the past decade, said Oregon State University research agronomist Rich Roseberg, going from 1,200 hectares in 2003 to more than 40,000 nationally by 2010. He noted that the majority of the teff acreage in Washington state, Oregon and in the Eastern U.S. is grown for livestock forage.
"Horses in particular seem to prefer it to other grass hay," he said.
In Idaho, though, more of the teff production is grain for human food. Roseberg said Carlson was ahead of his time.
"Mr. Carlson for a long time was the only one interested in it. He recognized the value of teff -— at least for teff grain — long before the any of the rest of us did," he said.
Teff contains lots of nutritious calcium, iron, protein and fiber. It requires one-third to one-half less water than alfalfa, as well as substantially less fertilizer than wheat or other small grains.
The University of Nevada-Reno is leading a project to breed "improved" varieties of teff. The aim is to make it more productive and drought tolerant in anticipation of harsher growing conditions due to global warming.
A marketing flier for The Teff Company says, "Move over, quinoa, there's a new grain in town."
The "new" grain, of course, is really an ancient one, but Wayne Carlson is not fond of the term "ancient grains" to describe the category.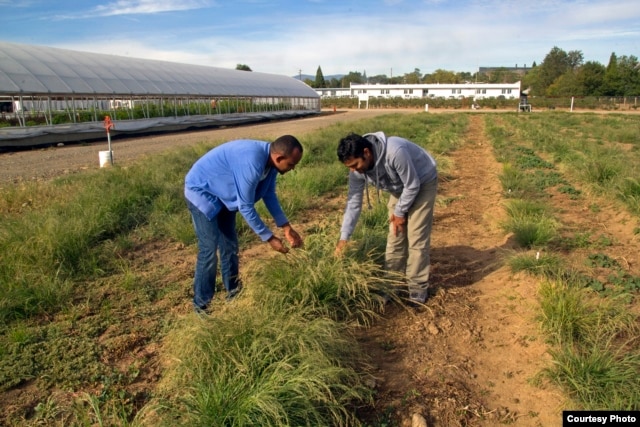 Graduate students examine teff grass at the Nevada Agriculture Experiment Station at the University of Nevada-Reno. The research team is also working on genetic and agronomic field crop and soil management approaches to make the stems less prone to breaking. (Credit: Whip Villarreal)
"Teff was never really a relic. It was never bypassed by history," he said. "Teff has always been the mainstay crop for millions and millions of people. It's just that they were geographically isolated in northeast Africa. So all we've done is said to the rest of the world, 'Hey, look, there's this really good stuff there. Why don't you incorporate it in your diet?' "
And the rest of the world is doing just that.
Source: VOA
---
---