MOGADISHU (HAN) June 4.2016. Public Diplomacy & Regional Security News. The African Union Mission in Somalia (AMISOM) is gearing up to provide security to ensure a peaceful vote during the upcoming electoral process in Somalia, its head Ambassador Francisco Madeira has announced.
AMISOM has already begun working with the Somali Government and its security forces to establish a technical security committee to oversee security arrangements for the August ballot, the Ambassador said.
"The commitment taken by Somali politicians and leaders is that the 2016 elections be viewed as another transition towards a full-fledged electoral process of one-person-one-vote by 2020. We are happy that they have all agreed on how to go about this," observed Ambassador Madeira.
The Special Representative of the Chairperson of the Commission (SRCC) made the remarks at a media luncheon held in the Kenyan capital, Nairobi, during which he updated journalists on the progress made by AMISOM forces and the Federal Government of Somalia towards stabilising the country.
Somalia is expected to hold elections before the end of the year, after political representatives struck a deal on the electoral model to be used to designate a new president and members of parliament.
Ambassador Madeira said that to completely dislodge Al-Shabaab in areas still controlled by them would require concerted efforts from AMISOM, international partners and the Somali national security forces. AMISOM's capacity to do this was hampered by a lack of military equipment, but added that the Mission will soon acquire force enablers, such as helicopters, to enhance mobility. Currently, pockets of Al-Shabaab forces remain in Middle Shabelle and Middle Jubba regions.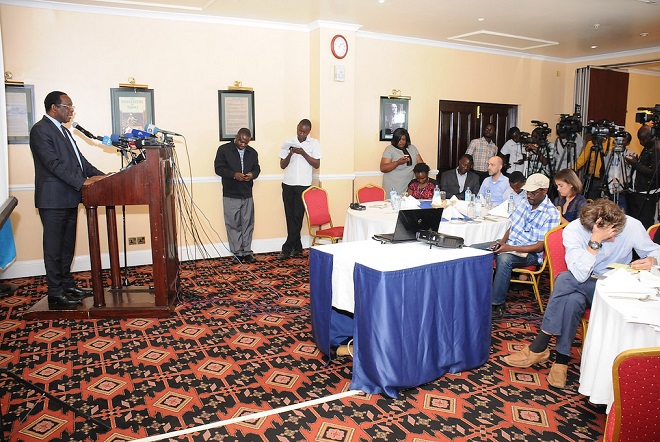 "We will go home as soon as we feel that we have reached a level where Somalis can do the job themselves. We will go home when the Somalis feel we have overstayed their hospitality and also when we are convinced that we have fulfilled our mandate as African Union," Ambassador Madeira said.
Responding to questions on the European Union funding cuts, the SRCC said a body had been formed to look at alternative options to fill the gap, adding that it was necessary that AMISOM continues to receive adequate funding to help it achieve its mandate.
He also announced that a new AMISOM Force Commander from Djibouti was recently appointed and is due to take up office following agreement by all the AMISOM Troop and Police Contributing Countries.