GALKAYO (HAN) August 22.2016. Public Diplomacy & Regional Security News. The United States condemned two suicide bombings Sunday in central Somalia that killed at least 20 people.
"Today's cowardly attacks targeting Puntland security forces, government officials, and civilians are another attempt by terrorists to weaken Somalia ahead of its historic scheduled political transition this autumn toward greater representation," National Security Council spokesman Ned Price said in a statement.
Witnesses and officials said the blasts hit a local government building and a nearby market in Galkayo.
Abdullahi Daahir, an eyewitness described what he saw.
"The first car bomb rammed into a local government compound housing administrative offices and soon after the first responders came out of the surrounding buildings, another suicide-bomber with a speeding car below himself up, he said.
Another eyewitness told VOA's Somali Service on condition of anonymity for fear of reprisals that the driver of the second car bomb was a female.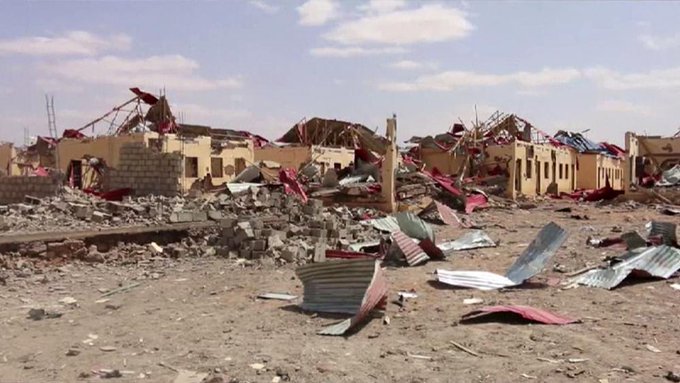 "When the first explosion occurred, I was in a nearby tea restaurant. I came out to see what has happened. I saw a woman driver with a red head scarf speeding towards us, and then, I immediately crossed the road . The second explosion occurred."
"I saw more than 18 dead bodies. The fatalities included students, local traders who were at a nearby market but most of them were the guards of the local government compound."
Puntland officials have confirmed that the terrorist attacks killed more than 20 people.
Hassan Mohamed Khalif, Puntland's Mudug regional Governor, said the town has come under attack by "barbaric and ruthless terrorists."
"We came under attack today and the death tall keeps rising so far we can confirm the death of more than 20 people, but we will provide the exact number once we collect details from the local hospitals," the governor said.
The activities in the town remained stand still after the attacks with security forces condoned off the entire area.
Galkayo, some 700 kilometers (440 miles) northeast of Mogadishu is the provincial capital of Mudug region, but the city has been divided into south and north by clan rivalry.
The north were the explosion occurred is controlled by Puntland and the south comes under the administration of Galmudug, both are Somali Federal Member states.
Al-Shabab claims responsibility
Al-Shabab militants, a terrorist group in Somalia, have claimed the responsibility.
The attacks are believed to be a response for military operations conducted by US-trained Somali Special forces, in which militants were arrested from houses they were hiding in the town and its surroundings.
In another incident, at least four people were injured after mortar shells landed in government compound in the capital Mogadishu on Sunday, officials said.
The director general of Somalia's Ministry of Transportation, Ali Ga'al Gaabow, said three motor shells landed in the ministry's compound.
"Three mortar rounds landed inside the compound. Four staff members were injured and two cars burned," he said. "There no other death."
No group has claimed responsibility for the attack. But it has hallmarks of similar mortar attacks frequently carried out in the city by al-Shabab.
---
---