Mogadishu (HAN) March 13. 2016. Public Diplomacy & Regional Security News.  A senior executive and shareholder of a company chaired by former Conservative party leader Michael Howard is being investigated by the United Nations for "possible links" to a violent Islamist terror group in Somalia, BuzzFeed News can reveal.
A leaked memo, sent last month by a UN watchdog to diplomats in the UK and Norway, reveals that the executive director for Africa at Soma Oil and Gas is under investigation for possible ties to extremist groups in East Africa, including al-Shabaab, which in recent weeks has claimed responsibility for a series of deadly terrorist attacks in Somalia.
Soma is a London-based company chaired by Howard that was set up in 2013 to explore for offshore oil in Somalia. The Africa director, Hassan Khaire, and Howard are both shareholders in Soma and sit together on the boards of three of its group companies in the UK, according to records filed at Companies House.
A spokesperson for Soma told BuzzFeed News Khaire had "no link or affiliation to any known terrorist organisation or member of a terrorist organisation".
The probe is part of the UN monitoring group's wider investigation into Soma's activities in Somalia. The private company, which has ties to Conservative party donors, is also under criminal investigation in the UK by the Serious Fraud Office (SFO) in connection with corruption allegations in Somalia.
Disclosure of the UN investigation is likely to be embarrassing for the Foreign Office as its officials held meetings with Soma executives throughout 2013 while the company was set up, including a "private briefing" for Howard. In 2014, Howard told defence secretary Michael Fallon, then a business minister, that he accepted the Soma job "with the encouragement" of the Foreign Office.
The UN letter, dated 17 February 2016, shows investigators raised concerns last month over Khaire's possible links to extremist groups after obtaining his "electronic contact list", which it analysed with the cooperation of an unidentified UN member state.
According to the document, concerns over possible extremist ties emerged during the course of the UN group's investigation of Khaire's activities with Soma that allegedly "related to facilitating bribery of public officials in Somalia". The monitoring group said it "remains concerned by Mr. Khaire's possible links to East African extremist groups, including but not limited to Harakat al-Shabaab al-Mujaahidiin ('Al-Shabaab')".
Al-Shabaab is one of East Africa's most deadly terrorist groups, connected to at least 120 deaths in Somalia since the beginning of 2016. Last month, the al-Qaeda affiliate claimed responsibility for an explosion that blew a hole in the fuselage of an Airbus A321. On Monday, the U.S. Pentagon claimed it had killed at least 150 al-Shabaab fighters in a heavy bombing attack using drones and manned aircraft.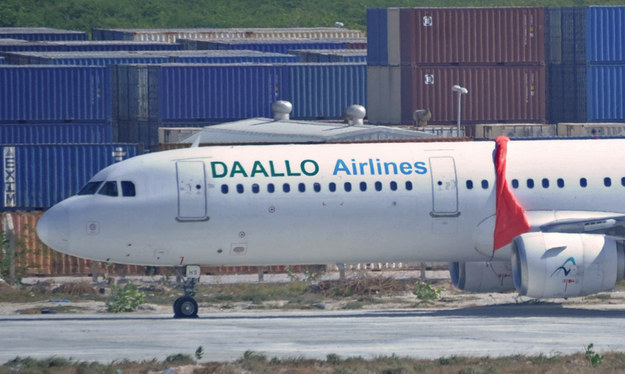 UN investigators have requested information from authorities in Norway, including banking records and any intelligence on Khaire's relationships to these groups. The Soma executive is a Norwegian national and a former regional director of the Norwegian Refugee Council, a large Oslo-based NGO with operations in East Africa.
In a statement to BuzzFeed News, Soma "strenuously denied" any wrongdoing and said it was cooperating fully with the SFO.
The company said it had no knowledge of the UN's inquiries to the Norwegian and British governments and was unaware of any investigation into possible extremist links involving Khaire. After being contacted by a member of the UN investigation team in January, the company added that "it was our understanding that enquiries may be pursued with the US and Norwegian authorities".
The statement continued: "Mr Khaire does not have any links with East African extremist groups including Al Shabaab. For the avoidance of doubt, he has no link or affiliation to any known terrorist organisation or member of a terrorist organisation.
"Any direct or implied reference to either Mr Khaire or Soma (by association) having any, or any possible, connection to a terrorist organisation would be highly damaging and defamatory.
On the SFO inquiry, the statement said: "Soma is confident that there is no basis to the allegation and it is co-operating fully with the SFO to answer its queries. No charges have been laid against the company or any individual. Soma has always conducted its activities in a completely lawful and ethical manner and expects this matter to be resolved in the near future."
Khaire, the statement added, "repeats that he has not knowingly ever been in contact with any terror group or any member of such a group. If he has had contact with any person who may have such affiliations, any suggestion that this was done knowingly or nefariously is untrue and would be highly defamatory."
Soma's dealings in Somalia have raised concerns about overlapping commercial, political, and UK diplomatic interests. Soma's lucrative oil and gas deal with Somalia was struck without an open tender process shortly after UN observers recommended a moratorium on oil deals in the country.
Soma was established by businessmen with extensive ties to the Conservatives, such as party donors Basil Shiblaq and Paddy Gillford, the Earl of Clanwilliam, a Westminster lobbyist who backed David Cameron's party leadership campaign in 2005. Howard became Soma's chair in May 2013, shortly after Shiblaq incorporated the company in the UK.
Last year, the UN monitoring group published a detailed report into Soma's activities. It accused the company of making large payments as part of a "capacity building agreement" to government officials and advisers in the country, alleging the payments created serious conflicts of interest.
Soma has vigorously contested the monitoring group's findings, which triggered the SFO investigation in August 2015. Last year, Howard defended the company in a letter to the UN Security Council. He said the monitoring group had "fundamentally misunderstood the nature, purpose and destination of payments" to Somalia's petroleum ministry.
Soma is controlled by a series of offshore companies in the British Virgin Islands. Its largest shareholder is a company owned by the family of Russian oil services billionaire Alexander Djaparidze, according to Soma's records. Another key investor is Lebanese businessman Mohamad Ajami, who is currently under investigation by the US Department of Justice in connection with property deals involving the regime of former Libyan dictator Muammar al-Qaddafi and London-based hedge fund Och-Ziff.
A spokesperson for the UN Security Council committee that oversees Somalia and the work of the monitoring group declined to comment on the leaked document.
A spokesperson for the UK Foreign Office said: "We are aware of the Serious Fraud Office investigation into Soma Oil & Gas and allegations of corruption. As this is an ongoing investigation it would not be appropriate to comment further at this stage."