MOGADISHU (HAN) July 27.2016. Public Diplomacy & Regional Security News.BY:Harun Maruf. A former member of Somalia's parliament who joined the Al-Shabab terror organization in 2010 was the man behind a suicide bombing that killed 13 people in Mogadishu Tuesday, according to the group.
"Salah Nuh Ismail known as Salah Badbado was among the braves who have carried out the attack on Halane military base," Al-Shabab said in statement on its Andalus radio station.
The bombing took place at the main entrance of Mogadishu's airport during morning rush hour Tuesday. The entrance targeted in the bombing is regularly used by employees who work at the airport and is located near U.N. and African Union (AU) buildings that connect to the airport.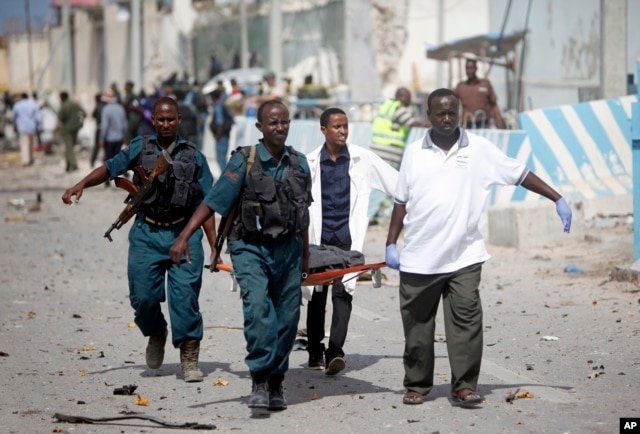 United Nations office guards and Somalian soldiers carry the dead body of their colleague who was killed in a suicide car bomb outside the UN's office in Mogadishu, Somalia on July 26, 2016
A spokesman for the U.S. National Security Council, Ned Price, said Tuesday that the United States "stands squarely with Somalia and our partners in the fight against despicable acts of terrorism that seek to destabilize Somalia." He said the United States remains "committed to helping Somalia progress along a path towards peace and prosperity and the defeat of terrorist groups."
Residents in the area reported hearing two massive explosions just around 9 a.m. local time.
Suicide bomber attack
According to reports from the residents, a suicide bomber tried to drive a car packed with explosives through a Somali security check point and then detonated the explosives causing casualties.
Seconds later another car arrived and this time the suicide bomber detonated the car close to security forces and nearby African Union forces.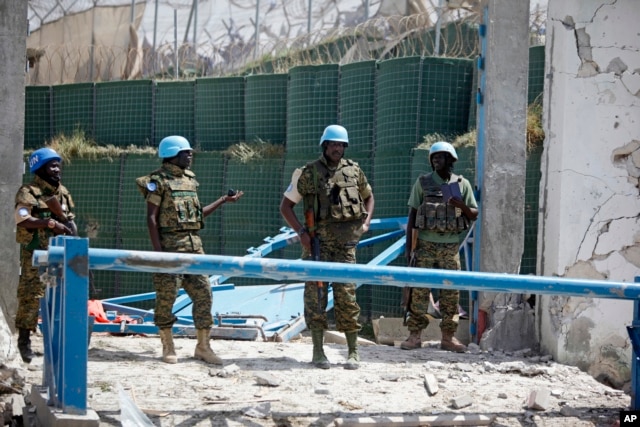 United Nations soldiers stand in front of the destroyed gate outside the UN's office in Mogadishu, Somalia on July, 26, 2016.
A security source told VOA that private security guards charged with protecting U.N. personnel outside the AU compound were also at the checkpoint at the time of the attack.
It's not yet known if any U.N. officials were preparing to leave the airport at the time of the attack. The private security detail escorts U.N. officials and vehicles outside the airport perimeter.
Security sources say attackers did not breach the perimeter of the airport which partially hosts the main Headquarters of the AU as well as foreign embassies.
---
---